The London Edit
My essential list for my temporary life in London
It has been a while, I know. School started a week after arriving home from London and I quickly lost grip of everything I had in mind for my blog. But, honey, I'm home! (And so happy to be back). For those of you reading, thank you for returning to the blog after such a long intermission; I have a lot I want to talk about in the upcoming posts! Since being back home and now on winter break, I have really wanted to share with you a bit more of what the "Everyday Angie" was like during my months in London. The things I came to depend on, my routines, and what I quickly learned was necessary to be a Londoner. The slideshow below has a bunch of photos I have burrowed on my computer from my weekend extravaganzas I talked about in my post, It's My Blog, I Can Cry if I Want To. I have divided my Essential Lists into three categories. Wether you are traveling or not, these are Angie's favorites discovered by and through living in London. I have a few questions for you at the end of this blog post that I would love you to answer. So sit back, relax, and try to pretend that we aren't on the brink of nuclear war with North Korea.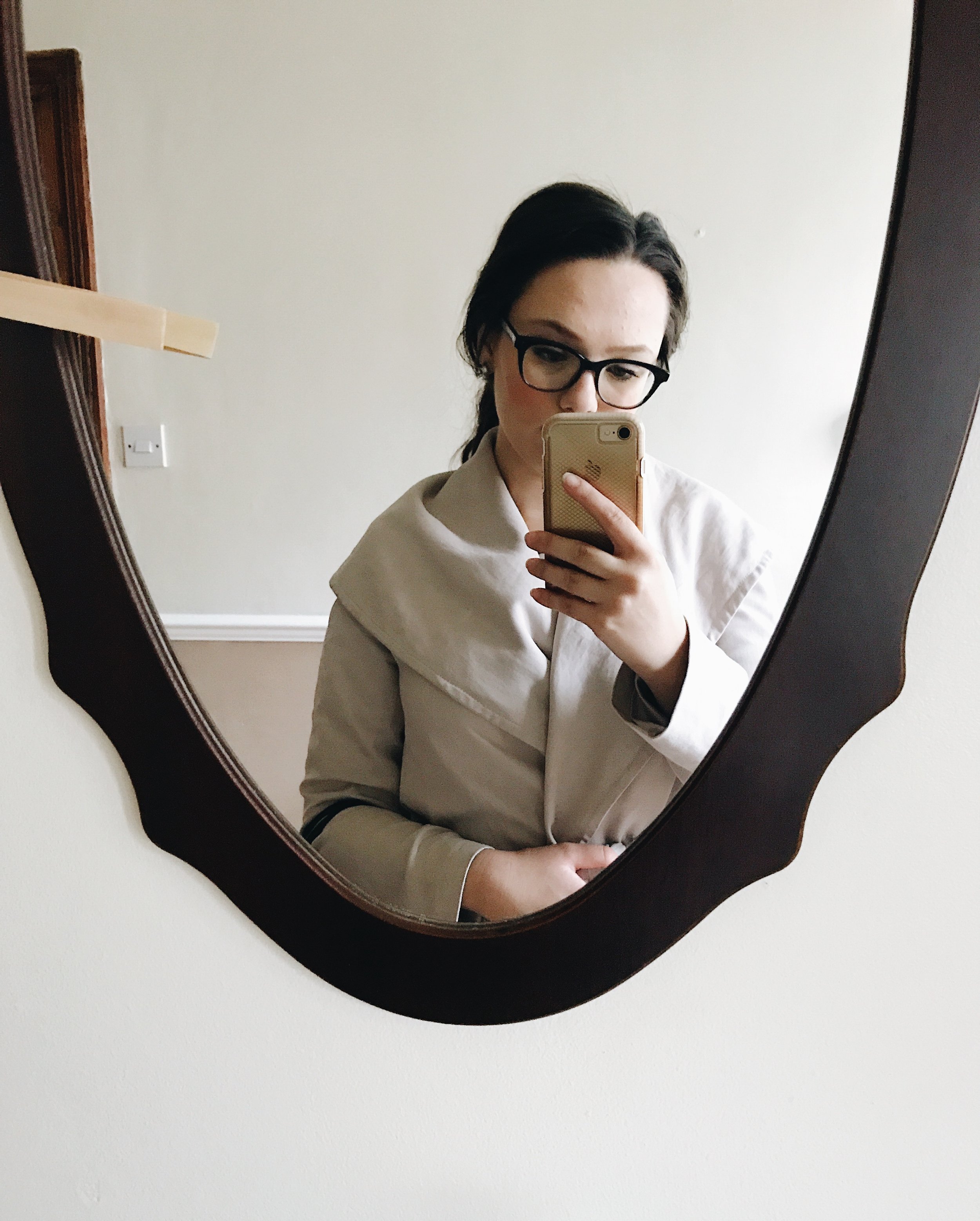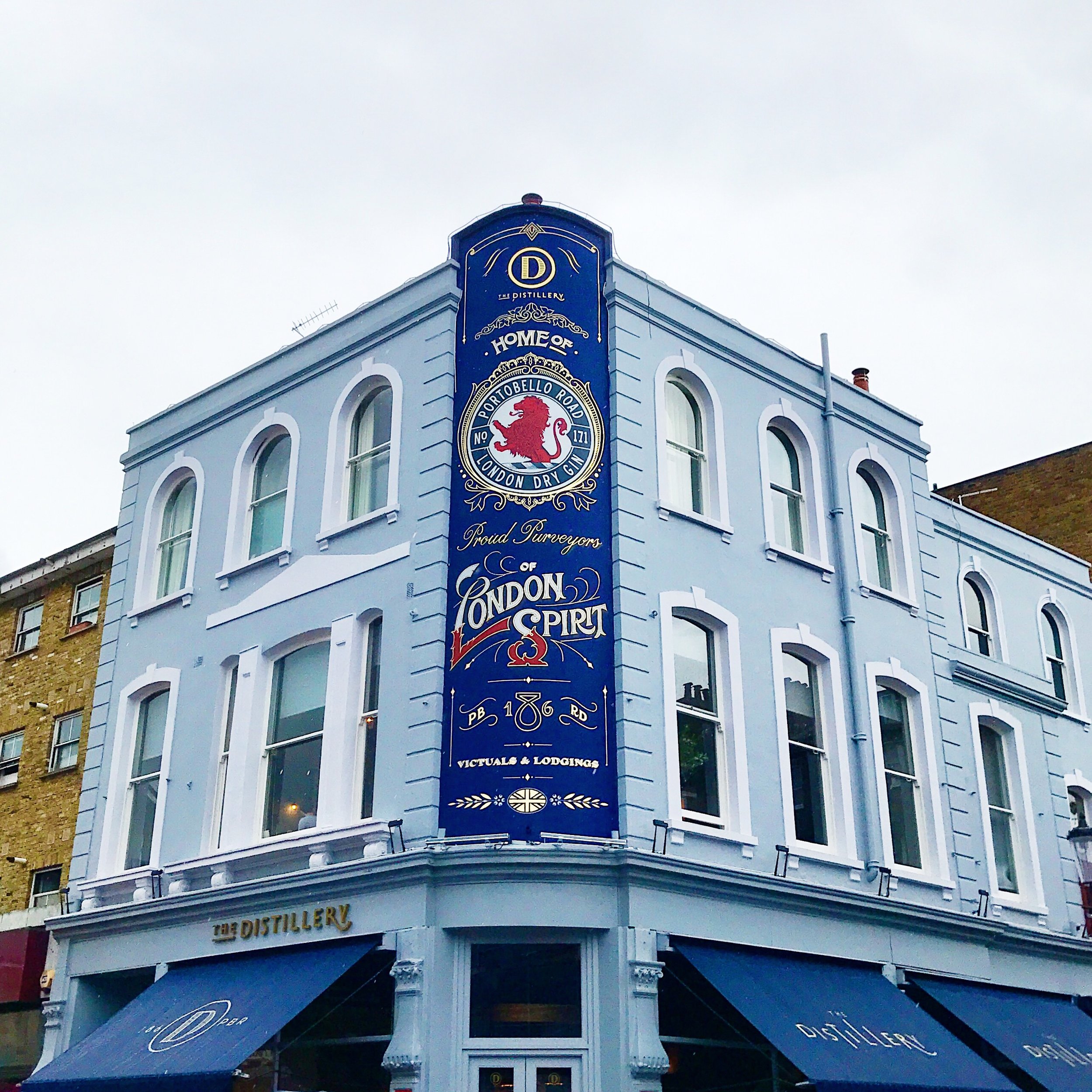 Wardrobe Essentials
Club Monaco Trench
You can't go to London without a trench, and this beautiful wrap coat was my everyday hero. Light in both color and weight, there was not a workday or weekend where I wasn't in this coat. Complementing every outfit, this Club Monaco coat is a modern, minimal, and a versatile take on the must-have trench. It's highly breathable fabric was perfect for the unpredictable weather known to England. It's flexibility allowed me to literally stuff it in my bag when the weather turned warm. Without hesitation, I wore this coat to work and drinks with colleagues during the week, as well as the weekends filled with adventure and activity. Let me also mention, MANY a stain was I faced with on this coat, and not once did I have the need to dry clean it. Just blot the spot clean with a bit of warm soapy water and rinse very well. Don't fret when you see the whole coat practically soaked after rinsing the area by hand. Hang dry for a while and you are good as new! What's more, it is on sale!! Full price or not, this coat was the best investment in my London wardrobe, and would buy another over and over again. For those curious looking for fit reference, I am 5'1 and sized an XS.
Striped 3/4 Length Shirt
https://www.macys.com/shop/product/anne-klein-striped-boat-neck-top?ID=4986849&pla_country=US&CAGPSPN=pla&CAWELAID=120156340017177555&CAAGID=19168009621&CATCI=aud-323276880194:pla-381124240520&cm_mmc=Google_Womens_PLA-_-RTW+Womens_Women%27s+Tops+-+GS_Anne+Klein-_-73589328061-_-pg1992760_c_kclickid_c4704c17-2c1d-47d8-8408-0905f92242df&trackingid=424x1992760&catargetid=120156340018377825&cadevice=c&gclid=Cj0KCQiA1afSBRD2ARIsAEvBsNldtmqrP2GWRxSOI5PRcO2ADNnwqyO9s-tLvUDZhbnx3jyR2aM8GUIaAs2wEALw_wcB
Versatility will be a running theme in my wardrobe essentials, and having a striped shirt is no exception. I won't bore you with the redundant flim flam about how classic a striped top is, but I will say how nice it was to have a no-brainer top in my closet to do the thinking for me at 5 am. By no stretch of the imagination am I a stylist, but I will say how confident and happy I felt in a striped shirt. As a matter of fact, my chosen daily English "uniform" would have been a striped shirt, black pants, and my Club Monaco coat (above). I quite enjoy the comfort of wearing a forgettable outfit and dodging unwanted attention through my clothes. However, I always felt comfortable, confident, and effortlessly nice looking in my "uniform." Work or weekend, a striped top was an everyday miracle.
Umbrella
https://www.uniqlo.com/us/en/women-blocktech-parka-400698.html?dwvar_400698_color=COL69&cgid=women-outerwear-and-blazers#start=25&cgid=women-outerwear-and-blazers
Somehow, I did not pack a raincoat or windbreaker to London, and certainly did not make it through without one. Like a reliable umbrella, some sort of waterproof outerwear is a non-negotiable. When stuck in the rain on Oxford Street, I ran into Uniqlo minutes before closing and found a windbreaker that would shield me in all of my outdoor endeavorers. Light as air, this little wonder came with me every weekend no matter what the forecast. Because of its highly compact material, slipping in and out of this jacket is a no fuss situation. Before this jacket, I would never go outside if it was raining. The condition of my hair, my makeup, constantly wiping my glasses, and just being wet was enough to keep me indoors. In this jacket, my head was perfectly covered, even without an umbrella, and I never felt weighted down by another layer. Although a bit pricier than I would have liked, it really is an all-round product. I am sure you could find something similar with a better price tag, but I have linked the one I have. Uniqlo tends to run small, so size up a great deal. I sized Large.
Ecco Soft 7 Sneakers
https://shop.nordstrom.com/s/ecco-soft-7-cap-toe-sneaker-women/4012442?country=US&currency=USD&cm_mmc=google-_-shopping_ret-_-662927176-_-33067286069_cf096f13-fb70-4551-a63b-d0ea2c09d645&cm_mmca1=aud-293636551325:pla-259497415411_88253008&gclid=CjwKCAiA-KzSBRAnEiwAkmQ1554MIEMZO9YtsYSOiZv2FG2X3ZEIuinw_Hccvmew9LVNaRNyTU1QFRoCnlkQAvD_BwE
I owe my entire livelihood to these shoes. Everyday, without fail, will you need shoes that can carry you for miles and miles in Europe. These adorable white lace-ups supported my ultra-sensitive feet nearly everyday, and I still wear them months after the trip. I walked 11 miles one day through Hampton Court Palace without an ounce of soreness in my feet. With their easy to clean material (I use a Mr. Clean Magic Eraser), I would repurchase these shoes over and over again. If you aren't planning a trip across Europe, I would still recommend these shoes as a weekend staple that will keep you comfortable, cute, and on the move! There is not a woman in my family who isn't hooked on Ecco Soft 7 Sneaker. My mom, sister, mother-in-law, grandmother-in-law, and great aunt-in-law all love and rely on the magical wonders of this shoe. And yes, the price is worth it a million times over.
Handheld Fan
https://www.amazon.com/K-MAX-Folding-Japanese-Handmade-Decoration/dp/B06XXCVNPN/ref=sr_1_5?ie=UTF8&qid=1514918758&sr=8-5&keywords=Wood+Folding+Hand+Fan
If you have ever had the luxury of riding the tube in the brunt of the humid English summer, you will recall the lovely stickiness that comes from too many warm bodies piling into the underground. If you are lucky, you may have even been cheek to cheek with a wet-faced stranger! The best way to survive this hellhole until everyone gets off at Holborn is with a Japanese style hand fan. Think geisha. The only way I survived afternoon tube rides without suffocating was with my silly little fan. And I wasn't the only one who had one! I picked mine up at a Chinese tea shop in Covent Garden, and haven't looked back. Now, in the much colder and drier climate of Colorado, I use my fan to dry down my setting spray when finishing my makeup. Using the fan melds the makeup to my skin like an oil painting. You could also gift this to a menopausal woman and become her best friend. The possibilities are endless!
Canvas Tote Bag
https://www.oliverbonas.com/accessories/alphabet-shopper-bag#selection=letter:A__95
As both a working woman and tourist in London, I really needed a carry-all that would hold my water bottle, lunch, iPad, parka, and umbrella without any excess weight. I popped into Oliver Bonus in Victoria Station and fell in love with this Alphabet Shopper Bag and have carried it everyday since. It's simplistic design and machine washable fabric makes this tote a must-have, especially in a country that doesn't put your purchases in bags you don't bring.
Tech Essentials
Headphones
People are silent on the tube. If not face-planted into the daily paper or some sort of screen, most everyone has earphones in and in their own world. And yes, I followed along with them. Although I don't have the earphones that I have linked, man would they have been helpful. I have the original design of Apple headphones, and I was constantly tangled up in them. These wireless headphones are certainly on my 2018 wishlist.
Podcasts
Look, I know that podcasts have an inexplicable reputation for being pretentious to those who don't listen to them. I was never interested in them until going to London, where I had an hour commute to work in a silent tube. I quickly realized that everyone was listening to something, and I just didn't want to listen to music so early in the morning. As an extrovert, I often feel energized by the sounds of people conversing, so podcasts were a great fit for me. Not only that, but podcasts have been a great way for me to learn new things, and turn otherwise dull commute time into learning something new. Below include my very favorite podcasts that I came to know and rely on.
It was so nice to be in a country where the local and national news (mostly) didn't revolve around insane American politics. I enjoyed watching the BBC with my host parents after coming home from work, absorbing every ounce of the broadcasters' mesmerizing accents. While the perspective shift was really refreshing, I found myself falling out of touch with the daily insanity in the States. The friendly voices of the NPR Politics podcasts felt like a phone call to home. Kind of in the "don't come home, it's still batshit over here," kind of way. The NPR team is so succinct in their investigative journalism, and they do a great job breaking down issues into an understandable language.
If you are looking for a quick, daily roundup of the last 24-hour news, this is the one for you. No faff, no fluff, nothing better. NPR's best reporters spend 13 minutes in the early morning getting you up to speed on the news you need to start your day. I start my workouts every morning with stretching to this podcast. Not only am I getting up to date on what's going on, but I know I get a thorough stretch before hitting the elliptical.
This hysterically entertaining politics podcast is hosted by former speech writers to President Obama, as they discuss current events. Have you guessed I like politics yet? BEWARE! This is a podcast for a drive or a long workout. Each episode can range from and hour to almost two hours, so don't listen if you are looking for bulleted facts on the week's news. Better podcasts for that is Up First from NPR. One of my favorite aspects of the podcast is how they absolutely deface the ads that fund their business. Their satirical approach to both ads and current events brings a bit of necessary humor in a world of serious political consequence. If you are a left leaning person and love a laugh, this is the podcast for you.
I am my grandmother's granddaughter, and certainly remember her stories about the "Dear Abby" column in her school paper. Perplexed individuals would write to "Abby," an anonymous columnist, and would give advice addressing the concerns of the writer. Dear Sugars is the adult version of Dear Abby, where renown writers Cheryl Strayed and Steve Almond take the troubling issues of their anonymous writers and offer deeper meanings and perspectives on how to best manage their burdens. Though some may find the narration of this podcast somewhat cheesy, we all can draw similarities in the words of their letter writers. There is so much to learn from Cheryl and Steve, and this was one of my favorite podcasts to listen to on the way back home from work.
External Battery
https://www.amazon.com/OPOLAR-F401-Personal-Operation-Compatibility/dp/B00WM7TRTY/ref=sr_1_5?ie=UTF8&qid=1515382963&sr=8-5&keywords=USB+fan
For those of you who may not have ready my earlier posts, I was working in an Italian firm in London during the summer. As many homes and buildings in England, my office didn't have air conditioning, nevertheless more than 2 windows to open. And my cold Colorado blood could not take the heat inside that office. Because I was the only one perturbed by the warm thickness of the office air, I needed a personal fan to cool me and only me. Here I have linked my fan that connected to the USB port of my computer, which I eventually left for the next overheated American intern.
City Mapper App
https://citymapper.com/london?set_region=uk-london
Forget any maps application, book, or personal guidance. City Mapper is the single best app that will tell you EVERY. SINGLE. MOVE. you need to make to get exactly where you need to go. This app will sketch out each platform, tunnel, train, street, and road you need to be on to get where you want to go. My American systems simply weren't compatible with English roads, and felt so confident in a completely foreign place.
Contactless Payment
For those of you Americans who may not be familiar with Contactless, it is pretty much where you pay for things with a few taps on your iPhone. The UK is lightyears ahead with this, and it is a lifeline when being broad. I hated how every time I used my cards in London I had to sign for things. With a line out the door at Pret, nobody will appreciate the extra time and counter space you will be taking up. Double tap, no signing, you're on your way. The locals make fast transactions this way, and you should too!
Lifestyle Essentials
Swell Bottle
https://www.swellbottle.com/white-marble
Why are disposable water bottles a thing in London? Although it may have seemed low-brow to some locals, I couldn't possibly wrap my head around spending two pounds a day on a less than satisfactory disposable bottle of water. While everyone in my office thought that I was a genius, a Swell bottle is a standard operating procedure in the big CO. Not only was this giant bottle essential in the arid wasteland that was my office, but it was event more essential during the long weekend days in and out of museums and shops. Those times where I was walking 11 miles a day, I could have use a few of these bottles.
Bite Agave Lip Balm
https://www.sephora.com/product/agave-lip-balm-P415979
My heart :) If you know me personally, you know my idiotic obsession with lip products. No lipstick, balm, or mask is safe from me. The one I wanted to try out and used during my time in England was the Bite Agave Lip Balm in the stick. This lip balm is more of a mask for the lips than a daytime balm. With this ultra sticky formula, my lips were kept seriously protected and moisturized. But this product isn't for the faint of heart. I mostly used this during the nighttime and weekends, where I didn't have to worry about having sticky balm up to my eye lids. Even better yet, Bite Beauty is a Canadian brand that uses all food-grade ingredients, so you don't have to worry about ingesting harmful chemicals suspended in your lip products. Not only that, but those Canadians know a thing or two about brutal winter lips, and this is a product that will plaster your smackers shut! But ask anyone, they are some of the best lip products on the market.
Reusable Tote Bags
Oh…boy. I don't think there is anything more beautiful than the M&S Food Hall. Isles and isles of brilliant foods, snack, teas, treats, drinks, and ready-to-eat meals. I would sacrifice my first born to have a M&S built in Denver. Really, I could write a whole blogpost on everything that I loved and relied on from M&S, but their Moroccan Spiced Chickpeas were a banger. A little spicy, a little salty, and certainly crunchy, I always had a bag of these in my canvas bag for a peckish afternoon in the office or surviving a bus ride back from Brighton. M&S stands for Marks & Spencers, which is a UK equivalent of Target on Russian grade steroids.
Single-Serve Wine
YES YES YES, A MILLION TIMES YES! Why hasn't the United States figured out single serve wine like the UK? Surely we have more reasons to drink than the Brits do right about now. If you aren't familiar with single serve wine, it is pretty much a plastic wine glass in the refrigerated section of a grocery store filled to the tippy top with your wine of choice sealed with a jello-like tin. My host family wasn't very keen on wine, so it was nice to pick up a glass for two pound fifty on my way home from work.
Elizabeth and James Nirvana White Rollerball
https://www.sephora.com/product/nirvana-white-rollerball-P384464?skuId=1570241&icid2=products%20grid:p384464
I wanted to make sure that I had a signature scent to commemorate my time in London unique from my everyday fragrances. For my fellow psychology enthusiasts, you may remember that the sense of smell has a direct connect the area of the brain that holds memory. Its called olfactory memory. I searched and searched for something I call a "grounded floral" fragrance that resembled one of my signature fragrances, Marc Jacobs Mod Noir. What I mean by a "grounded floral" is not a powdery floral, and not an airy floral. I like a fragrance grounded in something like creamy musk paired with a white flower, like gardenia. And this one is a stunningly sophisticated floral fragrance. It swings from day to night beautifully, and it could be worn by a range of ages. The rollerball size was the perfect amount to last me through the summer, and it was my ritual to give my neck a couple swipes while I walked to the tube.
_________________________________________________________________________________
And there we have it! If you have read this all the way through, BRAVA! I figured that I would inundate you with a long post to start off the new year and a long intermission here on the blog. Now I need your help. Below I have a few questions for you to help me navigate the direction of the content I create for this blog.
YOUR HOMEWORK
Please comment below:
1. What do you think of this post?
2. What you want to see next on the blog?
3. What you would think of an attached audio narration of these posts recorded in my voice? Having the tone and inflection from the voice of the author could offer a more entertaining experience, and also help those who want to read my blog but don't have the time to sit and read my posts. More like an audio book and less like a podcast.
And with that, I will leave you with this. Take care of yourself, take care of others, and be kind. Kindness if free...give it to everyone! Until next time, I will see you in the comments and thanks for reading!